Yulmburral
In the last 2 weeks, Year 1 and 2 enjoyed a terrific excursion to the Cairns Aquarium, all students are participating in the swimming program, numerous artworks have been created about "being at the pool" and a lack of water has motivated Yr 6 students to promote a "Dress as a Farmer" day to raise funds for drought ravished farmers. It appears "water" has been a central theme across the school. The pictures tell the story.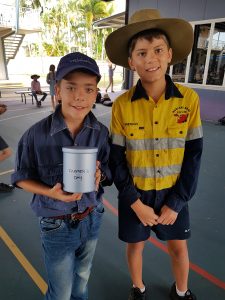 Next Tuesday evening Yr 2 parents are hosting the Term 3 Dance Concert. Students have been keenly learning their steps as a component of the Performing Arts syllabus. This event is the identified event for Yr 2 parents to support the P & F. I thank all Yr 2 parents who have indicated their readiness to volunteer their time for prepping, serving and cleaning up on Tuesday night. All extra hands of support will be greatly appreciated on the evening. Food service will commence at 5pm, with the performance starting at 6pm.
As a Catholic school we often focus our social justice on those who require a helping hand. Recently, Yr 5 & 6 students had an opportunity to participate in the annual St Vincent De Paul Homeless Sleepover event. Students had a dinner of soup and a slice of bread. Breakfast was a piece of toast. The night contained presentations and workshops on the challenges of being homeless. This was followed by a night of sleeping 'roughly' on cardboard. Students gained a greater empathy and appreciation for those who do it tough night after night. They also gained a greater appreciation of their own bed and home comforts. Another wonderful achievement was the raising of funds for 2 swags to be purchased and donated to SVDP so two fellow Australians can sleep a little easier each night. Bailey Vance ( Yr 5 ) is the student with the big heart who was instrumental in driving this initiative. This is a fine example of putting Gospel values into action. Well done Bailey.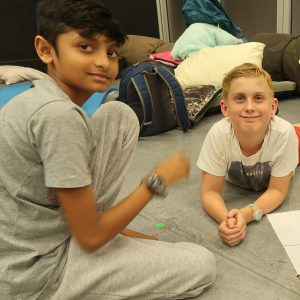 It has been suggested that at the end of each term all call go out for any outgrown uniform items, black shoes or sport shoes be donated to the school. I encourage anyone who wishes to participate in this process send in their clean quality pre-loved uniform items in a plastic bag. These items will be available for a nominal amount or for those in our school community who are need a little help to provide uniforms for their children. Please only donate if the you are willing to do so and the uniform is in reasonable condition.
On the first day of Term 4 is the annual school swimming carnival. Communication of the carnival will be emailed and available on the Parent Portal. An email will be sent through the holidays and a reminder will be placed on the school Noticeboard.
Have a happy and safe holidays
Paul