Yulmburral
As we race towards the end of term we can reflect on the fortune of having a full term at school where we  welcomed parents back onto the campus. We have had many opportunities to come together as a Saint's community. We had the Lion King Movie Night, the Life Long Learner assemblies and pizza afternoon teas. The P & F and School Board have had meetings, Parent-Teacher interviews occurred and we had a Sports Carnival and the Father's Day morning assembly. Over the final two weeks of term there will be swimming days, Walk to School day and a Beatles song concert. Covid may be a threat to our sense of normality yet at Saints we continue to deliver thorough and comprehensive schooling experiences
This week Mr Bill Dixon – Executive Director of Catholic Education Services visited the school for his annual visit. Mr Dixon observed a number of classes and watched Yr 3A present an enthusiastic rendition of 8 Days a Week. A presentation was made to Mrs Leah Houghton to recognise her 20 years of continuous service in Catholic education at St Augustine's School. Well done and thank you Mrs Houghton.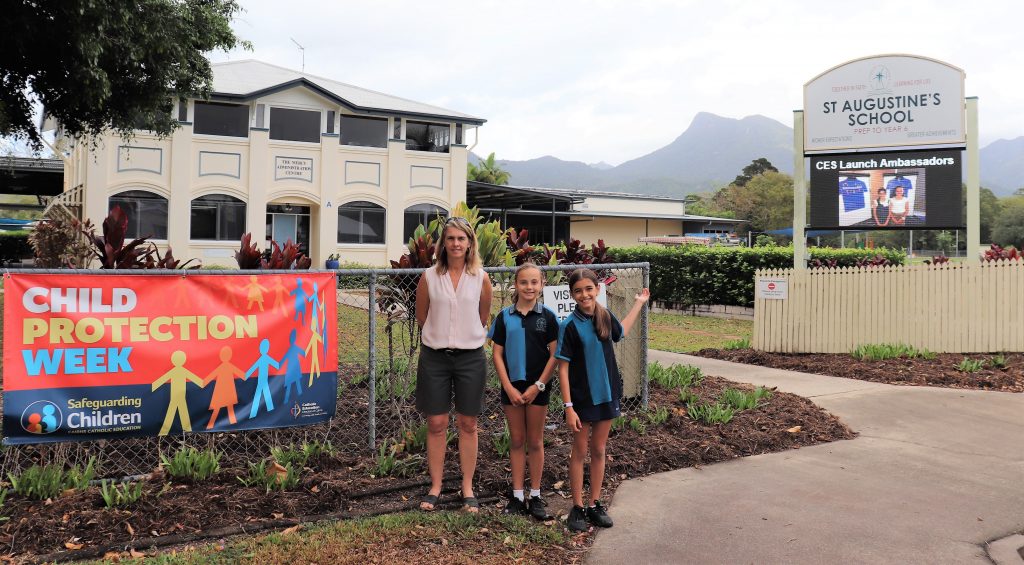 Congratulations to Ally Pringle – Yr 5 for having her winning poster design included on a T-shirt design for CES Child Protection Week. Ally will attend a presentation dinner at the Cairns Novotel on Monday evening.
Thank you to everyone who has adapted to the no smart watches being worn at school. The teaching staff are very appreciative of the support from parents and the adherence to this school rule by all students. If any message needs to be passed on at the end of the day Admin staff requests parents to try and phone no later than 2:30pm. After this time the busy nature of the front office may result in messages not being passed on.
Mrs Jo Trewick has informed the school the instrumental program is growing and going from strength to strength. This extra curricular opportunity may need some lessons to occur during break time. Please be aware of this possibility when considering participation in the instrumental music program.
Newman Catholic College is a 'GO' with funding formally announced this week by Craig Crawford MP on the site of James Cook University Cairns Campus. Shovels should hit the soil later this year to start the construction of the first secondary College in Australia to be co-located with a university. The new vertical College will offer state-of-the-art facilities and fantastic tertiary opportunities to students at Newman Catholic College and all Catholic Schools in the Cairns Diocese. Visit this CES website link Newman Catholic College for current information. Consideration is being given to run a bus for students from Douglas Shire who enrol at Newman College.
Some upcoming events;
Pupil Free Day – Friday 4th Sept
Swimming in Wk 10 – Mon 14th Sept – Yr 5 / Tues 15th Sept – Yr 4 / Thurs 17th Sep – Yr 6
Beatles Songs Concert Wed 16th Sept 11:30am
Have a great end to Term 3.
God Bless
Paul